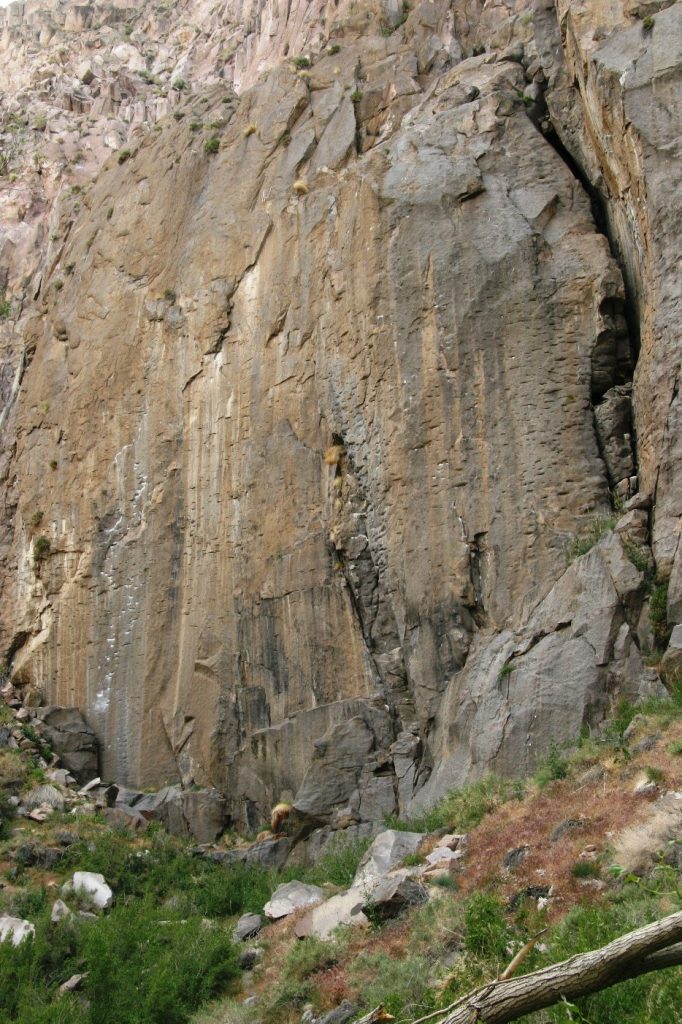 My intention for a 3-day climbing trip to Owens River Gorge was to flash 5.12's. That didn't happen. After an epic battle on a 12b to turn what should have been a flash into a 1-fall followed by a second-go meltdown I decided to step it down a notch. Day two saw flash failure on an 11c "warm up" before a 12a near miss. But I learned better than to give it a second go after an exhausting flash attempt. So I stepped it way down to a 10c that turned out depressingly difficult. Finally, on day two's final route, I put a flash on a bouldery 11d. I flashed day three's initial 11b and the next two 11d's.
Subsequent trips should focus on three flashes daily. Routes should be in the 11d to 12b range and eventually the whole 5.12 spectrum. We'll talk about 13a's later.
Lower Gorge, Penstock Rock
day 1 – D.W.P. 5.11c
Meant as a warm up, was too much route. I pulled the rope, sent, and started to feel that maybe my flash burns were closer to my redpoint capacity than I had thought.
day 1 – Flashflood 5.12b
After this I know my flash level is close to my redpoint-in-a-day level. I probably spent one hour trying to flash this sucker only to fall, stew on it for a few, and give it another go. That was a  bad idea. My day was over.
Upper Gorge, All You Can Eat wall
day 2 – O Henry! 5.11c
Also not a flash, though I scraped together a redpoint next go.
Upper Gorge, Trestle Wall
day 2 – Bazooka Country 5.12a
I should have flashed this. Rather, 1-fall.
day 3 – Pop Goes the Weasel 5.11b
Signalling the end of my day, and the trip, what should have concluded a no fall, all flash Sunday turned into a self-hate-athon on what is otherwise a pleasant route.
Upper Gorge, Warm Out Wall
day 2 – Herniated Bone 5.10c
A joyless flash – I wanted to take. I was not prepared for insecure slab business.
day 2 – Mini Me 5.11d
Fugg'n finally a flash I feel good-ish about and a nice end to day 2. There's a crux crimp in the middle of this wall that I was pretty confident would spit me off, and I guess "stands as a good intro to thin gorge crimping".
Upper Gorge, Upper Elbow Room wall
day 3 – Walk the Yellow Line 5.11b
Flash; and better than coffee for getting the day started. Yeah, I said better than coffee. Gaining the "roofed dihedral" makes for some awkwardly unnerving sequences.
Upper Gorge, Holy Trinity wall
day 3 – Sex 5.11d
Great route. I was psyched to flash after a wee fight up top. The climbing bears no resemblance to the description on MountainProject. It is unmistakably cruxy from the second-to-last bolt to the clipping jug, as the printed guide suggests. The exposure is uncomfortably great and was a fine addition to a day that very nearly had me reaching for a change of boardies.
Upper Gorge, Failsafe Wall
day 3 – Thrill Pig 5.11d (to the left of Drill Rig 5.11c)
Ordinarily a 13-bolt crimp-fest would not excite me. And I wasn't exceedingly excited. But I narrowly eked out a flash on what could make for a nice lap route in the future.